Postet av Gruppedans den 16. Okt 2022
Høstens semester er godt i gang og vi gleder oss til et spektakulært show på Chateau Neufs storscene 15. november! Kvelden kommer til å by på originale koreografier som er koreografert av våre fantastiske instruktører og dansere.
I høst vil danserne ta dere med på en drømmende reise gjennom alt fra dagdrømming om rikdom og velstand til grusomme mareritt.
Dra med deg familien og vennegjengen, og la deg underholde av imponerende ferdigheter og koreografier. Forsvinn inn i drømmenes verden av transe, fantasi og stor danseglede. Kom som du er - VI GLEDER OSS!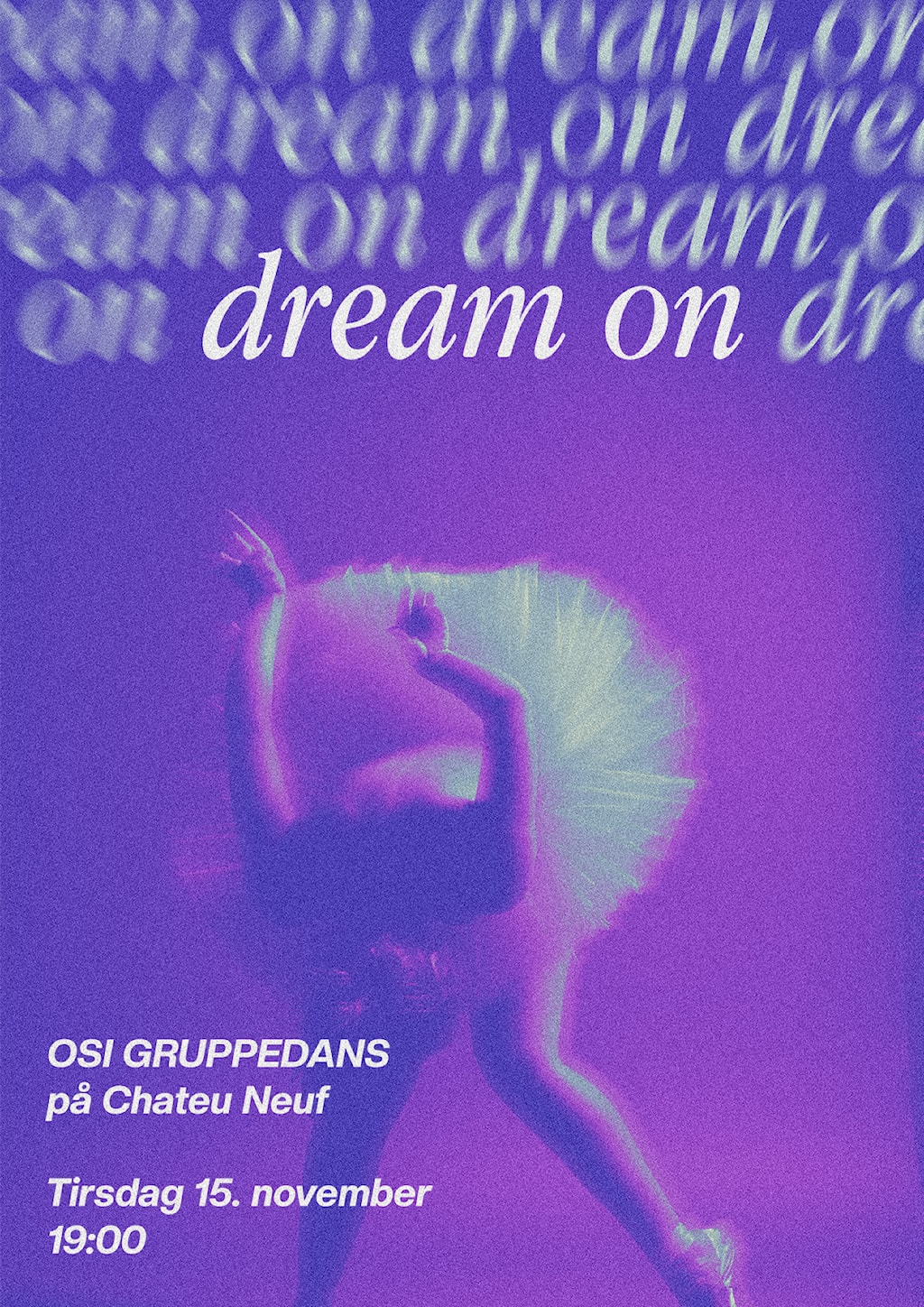 TID: 15.november kl. 19.00
STED: Storsalen, Chateau Neuf
BILLETTER: Kommer snart
PRIS: kr 60 for studenter og 120 for voksne (ekskludert gebyr fra Ticketmaster, link kommer snart)
OSI Gruppedans er en danseklubb for Oslo-studenter under OSI-paraplyen (Oslostudentenes idrettsklubb) som tilbyr dansekurs innen moderne, jazz, klassisk ballett, hiphop og hiphop girly style hvert semester. Det er delt inn i ulike nivå slik at alle kan få seg en utfordring og ha det gøy! Vi jobber mot en danseforestilling hvert semester hvor danserne får stå på en scene og skinne som de stjernene de er!
_________________________________________
OSI Gruppedans invites you to the dance show DREAM ON!
The fall semester is well underway, and we are looking forward to a spectacular show on the big stage at Chateau Neuf on 15th of November. The evening will offer original choreographies choreographed by our amazing instructors and dancers.
This fall, the dancers will take you on a dreamy journey through anything from daydreaming about wealth and prosperity to gruesome nightmares.
Bring your family and friends and let yourself be entertained by impressive skills and choreographies. Dive into the dreamworld of trance, fantasy and a big joy of dance. Come as you are - WE ARE EXCITED!
TIME: 15th of November at 19:00 hr
PLACE: The Big Stage, Chateau Neuf
TICKETS: Coming soon
PRICE: kr 60 for students and kr 120 for adults (excluding ticket fee from Ticketmaster, link coming later)
OSI Gruppedans is a dance club for students located in Oslo, under OSI (Oslostudentenes idrettsklubb), and we offer dance courses in hiphop, girly style, jazz, modern and ballet. We divide the courses into three levels so everyone can have fun and find a challenge! Every semester we work towards a dance show where our dancers can get up on the stage and shine like the stars they are!
---
Kommentarer
Logg inn for å skrive en kommentar.